Smith-Madrone Fact Sheet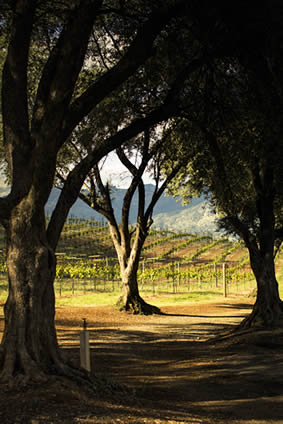 LOCATION & COORDINATES: 4022 Spring Mountain Road, St. Helena, California 94574
Phone 707/963-2283; Fax 707/963-2291 www.smithmadrone.com, info@smithmadrone.com
www.cooksflatreserve.com Open by appointment only at 11:00 a.m. or 2:00 p.m. on Monday, Wednesday, Friday, Saturday. Tasting fee is $25 per person; this fee is waived with a wine purchase.
FOUNDED: 1971, by Stuart Smith
MANAGEMENT: Stuart Smith, Managing Partner, Enologist; Charles F. Smith III, Winemaker, Sam Smith, Assistant Winemaker
MOUNTAIN VINEYARDS: The vineyards sit at elevations between 1,300 and 2,000 feet, on steep slopes which range up to 34%.
ESTATE : All wines made entirely from the winery's dry-farmed estate vineyards surrounding the winery on top of Spring Mountain in the Napa Valley. Stuart Smith chose specific slopes with different exposures for specific varietals when planting the vineyards: eastern exposure for Riesling, southern and western exposures across flat stretches for the Cabernet Sauvignon and the coolest north-facing slopes for the Chardonnay. There are numerous historical sights on the ranch, as well as the huge array of natural beauty and wildlife.
SOIL: The soils are mostly deep-red Aiken Stoney Clay loam, part of the Aiken, Kidd, Forward complex of soils which are volcanic-based, well-drained and deep for mountain soils. The underlying geology is the Franciscan Assemblage, unique to California coastal ranges, which includes altered mafic volcanic rocks, deep-sea radiolarian cherts, sandstones, limestones, serpentines, shales and high-pressure metamorphic rocks, all of them faulted and mixed in a seemingly chaotic manner as a result of tectonic plate activity. The soils are rocky, with some as large as small cars.
FARMING: Smith-Madrone is a pioneer of dry farming. Stu Smith explains in this video.
CURRENT RELEASES: 2016 Chardonnay (831 cases produced, $40), 2016 Riesling (685 cases, $34) ; 2015 Cabernet Sauvignon (1,199 cases, $52); 2013 Cook's Flat Reserve (2,450 bottles, individually numbered, wrapped in proprietary tissue, in wooden cases, $225)
All wines are Spring Mountain District appellation, all wines are estate-grown and estate-bottled.
PRODUCTION: Approximately 3,000 cases a year
HOSPITALITY: Tours and tastings always conducted by one of the Smith family
THE ESTATE: 200 acre ranch, partly planted as vineyard over a century ago; California black bears and other wildlife once thrived here; enormous 120-year-old Picholine olive trees frame a path and view down to the floor of the Napa Valley and Bothe Napa Valley State Park
THE NAME: A tribute to the Smith brothers and the predominant tree on the ranch. The Madrone is an evergreen with a red-brown trunk and branches. In spring the tree bears lily-of-the-valley-like flower clusters; in fall orange-red berries appear.
HONORS: Stu was named one of the wine industry's most inspirational people in January 2018. [Link to Wine Industry Advisor]
07/2019