Stu Smith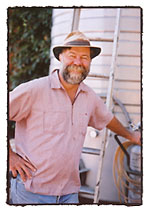 Brothers Stuart and Charles Smith are the vineyard managers and winemakers of Smith-Madrone Winery. Their family lineage includes the Fetherolf family, German farmers from the Palatinate region, who came to America on the Good Ship Thistle in 1730.
Stuart was born and raised in Santa Monica, where during high school he worked as a lifeguard on the beaches; he was captain of the football team and also shot-put and played volleyball. Stuart received his undergraduate degree from UC Berkeley in economics and went on to do his master's work in enology and viticulture at UC Davis. He was the first teaching assistant for wine industry pioneers Maynard Amerine and Vernon Singleton in 1970-1971, before moving to the Napa Valley and starting Smith-Madrone Vineyards and Winery in 1971. He taught enology at Santa Rosa Junior College and chaired the 1986 Napa Valley Wine Auction.
He is an active member of the G.O.N.A.D.S. (the Gastronomical Order for Nonsensical and Dissipatory Society), founded in the early 1980s by a group of Napa vintners who meet for lively monthly lunches, chronicled in James Conaway's books Napa: An American Eden and Napa: The Far Side of Eden.
Stu is often quoted and sought out for his leadership and expertise as a mountain vineyardist--whether it's by The New York Times or National Public Radio or The Napa Valley Register. In July 2005 he was named to the General Plan Steering Committee by the Napa County Board of Supervisors. He was a member of the Watershed Task Force formed by Napa County's Board of Supervisors in January, 1999. In 1998 he co-founded Farmers For Napa Valley, a group whose mission was to educate the public about hillside vineyard farming. He's a frequent participant in the Ahwahnee Hotel's Vintners' Holiday program in Yosemite and often serves as an auctioneer at charity auctions in Omaha (NB).
Father of five children (daughters Meg, Katherine, Charlotte and sons Sam and Tom), he was the Scout Master for St. Helena's (Boy Scout) Troop 1 for eight years. He is an avid canoeist, having canoed through the Quetico Wilderness in Canada six times and often through the American and Trinity Rivers in California. He enjoys barbecuing for guests at the winery; favorites are the (Smith-Madrone) Cabernet-marinated butterflied barbecued lamb and (Smith-Madrone) Cabernet Risotto (made on a camp stove as people gather around).