Charles Smith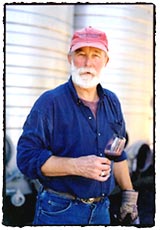 Charles F. Smith is the winemaker and general factotum for Smith-Madrone Vineyards & Winery. His brother Stuart Smith is the vineyard manager and general partner. The family lineage includes David Hume the 18th century Scottish philosopher and historian. Also in the family attic is the Fetherolf family, German farmers from the Palatinate who came to America on the Good Ship Thistle in 1725 and settled in Pennsylvania. The family also includes the first U.S. Marshal for the city of Denver, Colorado.
After graduating from Santa Monica High School, Charles went to school at the University of California, Berkeley, then San Francisco State University and in 1971 acquired a K-12 teaching credential. After teaching for a while he joined his brother at the vineyard in 1973. In his "wild oats" days he worked as a sawyer, a probation officer, a furniture mover and a taxi cab driver in San Francisco.
For many years Charles was a top level croquet player, representing the United States a number of times in international competitions. Until recently, he held the dubious distinction of being a co-participant in the longest single game in the history of the World Croquet Federation. The game was played against the Japanese champion in Newport, Rhode Island in the 1992 World Championships and lasted 7 hours and 35 minutes. Thankfully, he won.
He has one son and one stepson and two granddaughters, all of whom live with their families in Southern California.